Lancaster Airport
From ColdWarAirMuseum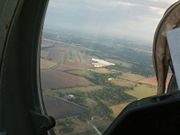 Lancaster Regional Airport (KLNC) is an active community airport located approximately fifteen miles southeast of Dallas Texas.
Runway 13/31 is a 6,500' x 100' paved runway with lighting and instrument approaches.
There is a restaurant at the termainal that is open seven days a week for breakfast and lunch, from 7am to 3pm.
[edit]
External Links