Lone Star Red Star
From ColdWarAirMuseum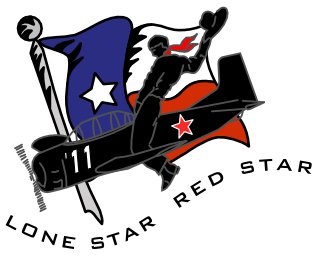 The 2011 Lone Star Red Star formation clinic and fly-in at KLNC starts Friday November 4th and runs until Sunday November 6th.
Be sure to sign up on the RPA Events web site.
[edit]
Welcome to the Lone Star Red Star!
Discount Fuel
Maintenance Seminar
Safety Seminar
FAST Ground School for new formation pilots
FAST Lead Seminar
Hangar BBQ Saturday night hosted by the Cold War Air Museum
Aircraft Photography
Parachute Packing
MI-24 Hind demonstration
There is a canteen on the field for breakfast / lunch / snacks
Tours of the Cold War Air Museum and Commemorative Air Force (DFW Wing) museum
[edit]
Special Note
Cost - $50 for pilots, $25 for backseaters. Includes dinner Saturday night.

Per-day cost is $25 for pilots, $10 for backseaters ($20 for backseaters on Saturday, includes BBQ ticket).
Please note that pilots must be an RPA member to participate in the clinic.
[edit]
Schedule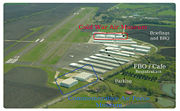 Friday, November 4th

1300 - welcome, registration
1330 - mass briefing followed by individual briefs
1400-1500 - first period take-offs
1600-1700 - second period take-offs
1800 - psychology and physiology of bail-outs (Terry Slawinski) (CWAM training room, Pizza)
Saturday, November 5th

All Day - parachute packing available
0730 - welcome, registration
0830 - mass briefing
0900 - maintenance seminar on pneumatic systems (Dennis Savarese)
1200-1300 - lunch on the field
1330 - individual formation briefs and flights
1330 - formation ground school
1500 - individual briefs and formation flights take-offs
1730 - MI-24 Hind demonstration
1800 - hangar BBQ at the Cold War Air Museum with speaker
Sunday, November 6th

0730 - welcome, registration
0800 - mass briefing
0900 - individual briefs by lead candidates and first period take-offs (checkrides)
0900 - acro instruction (still working out details)
1200-1300 - lunch on the field
1330 - individual briefs and second period take-offs (remaining checkrides)
1500 - individual briefs and any remaining flights
[edit]
Discounted Fuel
The city of Lancaster offers 20 cents off the advertised price of 100LL and Jet A for all warbirds.
[edit]
Hotels
The Holiday Inn is the "preferred" hotel of the event. New, clean, comfortable, with a shuttle that will pick up from the airport.
Holiday Inn Express Hotel & Suites
(directions from KLNC)
1310 E. Wintergreen Rd.,
Desoto, TX 75115
(972) 224-3100 reservations
Rate: $109/night if you mention that you're here with the Lone Star Red Star.
The Comfort Inn is the "backup" hotel. Also new, clean and comfortable.
Comfort Inn
(directions from KLNC)
404 North I-35 East,
Red Oak, TX 75154
(972) 617-7797 reservations
[edit]
Transportation
Confirm rental car arrangements with FBO.
We will have a number of 12-passenger vans to transport people.
[edit]
Formation Clinics
Please contact Jon Boede with your training needs (e.g. wing training, four-ship formation, recommendation ride, check ride, etc.)
For the Wing Training school, you need to have read the manual in advance. Come Prepared! If you are not familiar with the manual you will be wasting your time and your instructor's time.
Formation manual is available from the RPA Formation Manual Page.
[edit]
Friday Night
Dinner on the field at the Runway Cafe
Will decide based on number of people and a vote where to go from there.
Last time we went to the Boxcar Bar.
2222 Bear Creek Rd
(directions from KLNC)
(directions from Holiday Inn)
(directions from Comfort Inn)
DeSoto, TX 75115
(972) 230-1617
[edit]
Saturday Night